Croydon's Mayor is set to kickstart the regeneration of the town centre and is working closely with developers Croydon Partnership (CLP) and other partners to bring forward the redevelopment of North End as soon as possible.
In the meantime the council is ensuring much needed improvements to North End and support for local businesses are undertaken by CLP through agreements arising from the non-redevelopment of the Whitgift centre within an agreed time frame.
The council is committed to the continued partnership with CLP, who are proposing to begin masterplanning in 2023 to inform a new, revised planning application for the town centre. It is anticipated that this will include a wide range of uses such as restaurants, culture and leisure venues as well as retail.
Since being elected last May, Mayor Perry has made the regeneration of the town a top priority. He continues to meet with CLP to encourage the Whitgift Centre redevelopment, and he has reconvened the Mayor's Town Centre Advisory Board, which will work with its key partners to bring investment into Croydon and drive forward regeneration.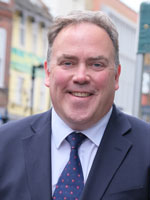 "I want the council to use all its powers to drive forward our town centre regeneration, from bidding for external funding, to doing everything we can to encourage and bring forward the redevelopment of the Whitgift Centre and other key town centre sites.
"Securing £4m of works from the council's agreement with CLP will boost North End as we work with them to shape new plans for the future of Croydon, that will make it the vibrant, successful place that we want it to be."
Jason Perry, Executive Mayor of Croydon
The Croydon Partnership said: "As we continue, in partnership with Croydon Council, to focus on defining a new approach for the regeneration of the town centre, The Croydon Partnership is committed to making a substantial investment into initiatives for the benefit of the Whitgift Centre and the wider town centre. While these initiatives are brought forward, we will continue to support our existing occupiers through local activations and concepts to engage the local community this year."