Pupils at 10 Croydon schools can make safer, healthier journeys from today, as the council has expanded its Healthy School Street (HSS) programme, bringing the total to 33 schemes across the borough.
The nine schemes were approved by Cabinet on 12 October, following an informal consultation earlier in the year, and have been introduced on a trial basis for up to 18 months.
Healthy School Streets aim to improve safety around schools and encourage more pupils to walk, cycle and scoot more often, by limiting motor traffic on the surrounding roads during school drop-off and pick-up times.
Residents living within the scheme area are eligible to apply for a free School Street Exemption permit so they can have access at all times. In addition, exemption permits are available to some road-users who may need access – including SEN transport. Other vehicles, such as emergency services or refuse vehicles will be automatically exempt.
Since applications opened in December, hundreds of eligible motorists have already received their permits via the council's online portal.
Eligible motorists who have not yet applied are encouraged to do so as soon as possible to make sure they do not receive a penalty charge notice. More information on free exemption permits is available on the council website.
Public consultation and data monitoring on the schemes' effects is now under way, with a decision on their future taken before the end of that period.
For the next six months formal objections as well as feedback can be submitted, and responses will be used to see if any improvements can be made. Details on how to get involved are available on the council website.
The nine new trials are set to launch at the following ten schools:
South Norwood Primary School (SE25 5QP)
Howard Primary School (CR0 1DT)
Gonville Academy (CR7 6DL)
Kenley Primary School & Kindergarten (CR3 0EX)
Park Hill Junior & Infants School (CR0 5NS)
Oasis Academy Shirley Park (CR0 7BE)
The Crescent Primary School & The BRIT School (CR0 2HN)
St Cyprian's Greek Orthodox Primary Academy (CR7 8DZ)
Good Shepherd Catholic Primary and Nursery School (CR0 0RG)
More information about Healthy School Streets can be found on the council website.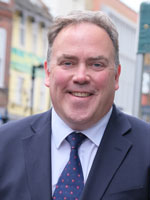 "We are monitoring these schemes closely to make sure they are helping pupils make safer, more active journeys, and addressing local residents' concerns about school run traffic and parked vehicles blocking drives.
"We have listened and will keep listening throughout the trial process, and we welcome your feedback and ideas for improvement."
Jason Perry, Executive Mayor of Croydon