Croydon residents are being encouraged to take part in London's Great Mental Health Day on Friday, 27 January to get people talking about their feelings and seeking help when needed.
The council is supporting the day by highlighting local projects to raise awareness and reduce stigma around mental health.
The council is also championing Croydon residents who are supporting their family, friends and clients by becoming a mental health first aider, and learning how to help them through challenges. The council offers free trauma-informed training which gives people skills and confidence to help someone they know who has faced a trauma.
One in three adults with mental health problems say their conditions have worsened since 2020, and the lockdown during the pandemic adversely affected many children and young people's mental health and wellbeing.
Participants at Croydon's mental health summit in the autumn have made a commitment to improve services and address the specific challenges and barriers faced by people from black and other communities in the borough. A short video of the summit is available to watch here.
Anyone who is feeling concerned, anxious or worried can get in touch with organisations and services like Mind in Croydon, Croydon Talking Therapies and Croydon Drop-in for young people, and talk through any issues.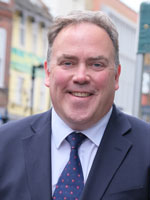 "Great Mental Health Day is an opportunity to get people in Croydon talking about how they are doing, especially when times are tough and to highlight that's it's okay to seek help and get support. In our borough, we value mental health and physical health equally. Let's use this day to commit to keep looking after one another and finding out more about the local initiatives and support services that are available."
Jason Perry, Executive Mayor of Croydon
People can get involved in Great Mental Health Day online by using the hashtag #GreatMentalHealth on social media to share their own stories, or you can take part in online webinars and workshops.