As temperatures begin to drop, the council is gearing up its winter plans to ensure we are ready for seasonal weather.
Although it can be difficult to predict exactly what will happen over the winter months ahead, the council has taken a number of actions to ensure residents can travel safely through the borough.
The winter gritting fleet is in place, comprising eight low emission gritting vehicles, and one Telehandler loading shovel. Drivers have already had a head start by familiarising themselves with their various gritting routes.
Vehicles are fitted with tracking systems, allowing the team to divert the nearest resources to areas where urgent, ad-hoc gritting action may be required – in cases such as burst water pipes.
Croydon's 578 salt bins are being topped up and will be at least two-thirds full throughout the season. Winter footway gritting operations are undertaken by the council's contractor, Veolia, and operate on a priority system.
The council's salt barn has been fully stocked with about 4,200 tonnes of salt- enough to grit from London to Auckland, New Zealand, and back- with plans in place to receive more salt from suppliers at short notice.
Learn more about gritting and salt on the council website.
Being aware on the roads is especially important during the winter months. As daylight hours decrease, drivers should take extra care to watch for pedestrians, cyclists, and other road users – and always remember to obey speed limits.
During winter, roads tend to expand and contract in the weather, making them more susceptible to potholes. Residents are encouraged to report potholes to the council using the Love Clean Streets app.
As leaves fall from trees, the risk for blocked gullies increases. The council has boosted its street cleansing operations to clear leaves in response – particularly after the storms seen in the past fortnight.
Across the borough, the council also routinely cleanses gullies using high pressure machinery, on a rotational and needs basis. If residents see a gully in need of cleansing, they are encouraged to contact  the council's resilience department by calling 0208 726 6000 or via the council's online reporting site.
The council works closely with the emergency and voluntary services, utility companies and other London boroughs to plan for a coordinated response to major emergencies, including the problems associated with severe weather.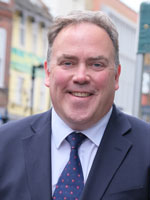 "Our winter preparedness plans are designed to keep traffic moving and keep streets safe during the colder months. The council is doing its part to clear gullies, stockpile salt, and respond to potential flood risks – and you can do your bit by reporting any issues via the Love Clean Streets app.
"With less sunlight now, I really encourage drivers to be vigilant on the roads, always keeping an extra eye out for pedestrians and cyclists – especially near schools.
"If you have vulnerable neighbours, try to check on them in the event of snowfall, or significant rain."
Jason Perry, Executive Mayor of Croydon