Jemima-Helen, a Year 11 pupil at Norbury High School for Girls, was chosen by existing members to lead the assembly – a representative body of young people aged 11-19 from schools and community organisations boroughwide.
With her exceptional leadership skills, passion and dedication, she plans to bring a fresh perspective and new initiatives to represent and empower young people in her home borough.
Croydon Youth Assembly was created to provide a platform for young residents – to give them a voice and help them develop leadership skills and influence positive change. It encourages young people to actively participate in civic affairs, share their aspirations, needs and concerns, and contribute to their community's development.
As the chair, Jemima-Helen will play a crucial role in advocating for young people. She will act as a liaison between the assembly and the council, making sure that young people are listened to, and their opinions considered in local decision-making.
Jemima-Helen expressed her gratitude and enthusiasm for this opportunity, saying: "I am deeply honoured to be elected as chair of Croydon Youth Assembly. I believe in the power of young people to drive positive change, and I am committed to empowering our generation to have a real impact on the issues that matter to us. Together, we will work towards creating a more inclusive, vibrant, and prosperous Croydon."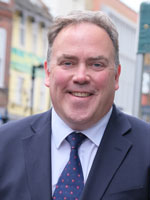 Croydon's Executive Mayor, Jason Perry, said: "I am delighted to see Jemima-Helen elected as the new chair of the Croydon Youth Assembly – I have no doubt that she will make a tremendous impact in this role.
When I was elected, I promised to listen to all our residents – and Jemima-Helen will help us to create a Croydon where young people are heard, valued and actively involved in shaping our collective future. I look forward to seeing what she and the Youth Assembly achieve this year."