Croydon's students are celebrating after receiving their hard-earned results in A-level, BTEC, Diploma, vocational and other technical qualifications.
Students at post-16 schools and colleges across the borough showed resilience and dedication when they faced their first major exam experience – having missed out on sitting their GCSEs due to the Covid-19 pandemic – and achieved results in line with pre-pandemic 2019 grades.
Students from Harris City Academy Crystal Palace were among those celebrating yesterday.
Jessica Sandbrook, 18, Crystal Palace resident and student at Harris City Academy Crystal Palace, said: "I'm going to Cambridge next year to do history and politics and I'm excited to go to university but also will miss school and friends I made here."
Rachael Omirefa, 18, from Croydon, said: "I'm going to be studying medicine next year in Exeter and I'm a bit nervous to leave school but I know that this is a good thing and I'm excited to study my degree."
Carrie Senior, Headteacher of Harris City Academy said: "I'm delighted to celebrate with the post-16s getting their results. I'm really pleased with how brilliantly they've done and congratulations to all of them, especially with all the interruptions they've had."
Executive Mayor Jason Perry said: "Congratulations to all of our students who received their results in A-level, BTEC, Diploma and technical qualification yesterday. These are another strong set of results from our schools and students and demonstrate the dedication of our young people in Croydon.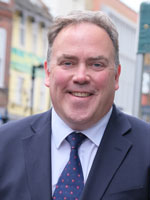 "This is an exciting time for young people as they embark on new opportunities at university, on apprenticeships or in employment. They should be proud of their achievements, and I would like to congratulate them on their hard work.
"I also know that results day can also be a difficult day for some students, so there is support and advice available to those who didn't get the results they hoped for and there are always options open to you."
Jason Perry, Executive Mayor of Croydon
Have you just received your exam results and considering what to do next?
The first thing you should do is find out if your offer is now confirmed.
If you needed specific grades for your chosen course and you didn't get these, first of all, don't panic. Speak to your intended establishment as soon as possible to find out whether they will still accept you. Remember, if you're not able to get on to the original course that you applied to, then ask them about alternatives.
If your results are better than expected, or you've since been rethinking your career goals and ambitions, speak to your intended establishment as soon as possible.
If you would like to discuss your situation and options with the Post-16 Participation Team at Croydon Council, call: 020 8726 7485 or email: Post16@croydon.gov.uk.
You can also check out the council website for information and advice.