Croydon Council has been successful in securing £249,000 in funding from The National Lottery Heritage Fund to collect, preserve and make accessible the digital archives of Croydon's year as London Borough of Culture.
Croydon Archives currently contain over 1000 collections relating to the London Borough of Croydon, its predecessor bodies and the diverse community it now serves, dating as far back as 1392. It also holds a wide range of local history material including books, photographs, maps and newspapers.
This project will enable future generations to access digital archives and view the important legacy of Croydon's year as London Borough of Culture. Croydon residents will be able to see the events that took place in their area in 2023 and beyond, with all the content and context of the Borough of Culture.
In time, the new digital preservation system will also be used to preserve the council's digital records selected for permanent retention in the archive, improving the council's governance and record keeping capabilities.
The funding from the Heritage Fund will enable 10 young people to help co-design the engagement strand of the programme. They will receive training in archiving, digital skills, research, project management, exhibitions and events planning.
The roles are open to young people that have been historically underrepresented in the archive. Applications for these roles are likely to open at the beginning of 2024.
The funding is also enabling the council to recruit two new posts to help deliver the project which are currently open for applications: a Project Collections Access Officer and a Project Assistant Archivist (Digital). The aim of the project is to widen engagement from young people and underrepresented communities in the archive, and encourage them to take pride in a shared Croydonian heritage by celebrating our year as London Borough of Culture and ensuring its digital legacy.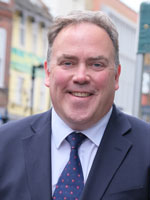 "I am delighted that the council have secured funding to digitally transform our archives while also providing training opportunities for our young people. This significant funding from The National Lottery Heritage Fund will help Croydon residents, present and future, to easily access council records and archives.
"Our year as London Borough of Culture has showcased the best of Croydon and this historical year will be remembered and viewed by future Croydon generations."
Jason Perry, Executive Mayor of Croydon
Stuart McLeod, Director of England – London and South at The National Lottery Heritage Fund, said: "It's fantastic to see that Croydon's year as the London Borough of Culture will be documented and digitally archived for generations to come. People will be able to look back and see the impact it had on heritage in the borough, through the eyes of Croydon's people. We're proud to have been able to support this project thanks to money raised by National Lottery players."
For more information on open applications, please visit the council's careers webpage at: Project Assistant Archivist and Project Collections Access Officer.