A project to transform Croydon town centre and restore pride is set to receive £18.5m of government funding following a successful bid by Croydon Council to the Levelling Up Fund, under round three.
The council applied to the Department for Levelling Up Housing and Communities (DLUHC) for the Reconnecting Croydon scheme, which will see six infrastructure and public realm projects funded to reconnect and revitalise Croydon's streetscape.
The vision for the project is to 'Reconnect, Refresh, Revitalise and Regenerate' the town centre, as part of Executive Mayor Jason Perry's priority for the wider regeneration of Croydon town centre.
The projects will provide improved connections throughout the town centre, so residents and visitors will be able to travel more easily through safer, greener and more pleasant routes.
The projects will cover the South End restaurant quarter, East Croydon station, West Croydon station and Old Town and Croydon Minster. Central to the bid is the delivery of a new civic square for the Fairfield cultural complex, connecting Queen's Gardens and Surrey Street Market.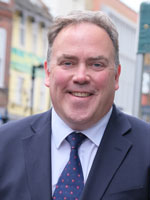 "I'm delighted we have been successful in the Levelling Up Fund, round three. Our impressive bid submitted at round two has been assessed as high quality and ready to deliver.
"This will be a huge boost for Croydon Town Centre and will form part of my determination to restoring pride in our community, reconnect and regenerate Croydon."
Jason Perry, Executive Mayor of Croydon