Croydon Council and its partner organisations held a coordinated day of action to curb antisocial behaviour in the town centre and help residents feel safer on the streets.
Support staff from the council's adult social services, housing and the antisocial behaviour team were joined by Croydon's Met Police officers, BID Rangers and a number of partner outreach services to crack down on street drinking and drugs by directing people to support services.
Rough sleepers were offered support through homelessness charity Croydon Reach and were signposted to help with mental health, alcohol and substance misuse issues. Support workers were also on hand to identify people who might be victims of domestic abuse or involved in modern day slavery.
More than 60 people took part, visiting streets included in the Public Spaces Protection Order (PSPO), an area introduced by the council in May to tackle a range of anti-social behaviour issues in Croydon town centre.
Under the PSPO, anyone causing antisocial behaviour in the town centre could face a fixed penalty notice or prosecution in the Magistrates' Court. The introduction of the PSPO received overwhelming support from residents, businesses, and partners in a public consultation earlier this year.
During the day of action, the Police spoke with five people who were breaching the PSPOs, issued one warning for antisocial behaviour and made referrals to support services where they identified vulnerability, among other outcomes.
START, an outreach service for people with severe mental health issues, spoke to five people which led onto multi-agency meetings to address what support they needed. They also referred a resident who needed support for a housing assessment.
Change Grow Live, a substance misuse service, spoke to 15 people about the health implications of drug misuse and the danger of overdoses. As a result, some people were referred for medical treatment at hospital, while others were referred to agencies within the group.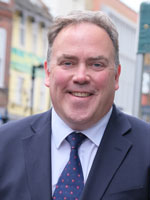 "It has been important to me that the council works more closely with partner organisations, such as the police, voluntary sector and community groups, to tackle antisocial behaviour on the streets and help vulnerable people get the help they need.  While this was a coordinated day of action, every day is a day of action for our staff working on the ground.
"Making Croydon safer for our residents is a top priority and it is essential that we create a clean and pleasant environment where residents feel safe to shop, businesses have the confidence to invest and we support those who need our services most."
Jason Perry, Executive Mayor of Croydon
The partner organisations taking part included: Croydon Met Police Service, Change Grow Live, Croydon Reach, START, The Salvation Army, Croydon BID and Centrale and Whitgift security team.