Croydon Council has appointed 31 members and four chairs of its newly launched Design Review Panel. They will be using their areas of expertise to advise the council on major planning proposals, capital projects, regeneration and development projects in the borough.
The panel was first formed in 2016 and is being refreshed to include members from different specialisms, while making sure it represents the Croydon community. It is self-funded, with the cost being met by developers.
Through a rigorous selection process, the council appointed panellists with experience in planning, architecture, urban design, culture, landscape design, green infrastructure, and placemaking.
They will meet regularly to review all major development schemes in Croydon, Town Centre regeneration proposals and Growth Zone and public realm improvement projects, providing impartial advice to the council.
The Design Review Panel will support these priorities by assessing proposals to make sure they enhance the unique character of Croydon's communities, as part of Executive Mayor Jason Perry's commitment to restoring pride in the borough.
Among the schemes the panel will be examining are, planning applications for major development and regeneration projects, infrastructure and highways, parks, street furniture, public realm and public art projects.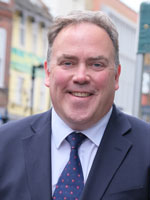 "This revitalised and enhanced Design Review Panel will play a key role in making sure that major planning, public space, regeneration and development projects being proposed will vastly improve our town and district centres for residents and businesses, while protecting their character.
"We have selected a panel of experts with knowledge and experience from a broad range of disciplines who will be able to support planning application decisions, guide our plans and help our towns and districts to thrive. We welcome the new panel members and look forward to hearing their views."
Jason Perry, Executive Mayor of Croydon
The new panel members have been appointed and will begin their panel reviews in September.