Croydon Council's dog warden, Tara Boswell, has received the RSPCA PawPrint gold award once again.
The RSPCA Stray Dogs PawPrints Award is graded bronze to gold, based on the stray dog service the local authority provides. Introduced in 2008, the programme sets high standards for animal welfare, with recipients needing to meet criteria way above the minimum legal requirement for a local authority.
Tara has worked for the council for 14 years and, in this role, she finds rescue spaces, foster and forever homes for the stray dogs Croydon collects. During this time, Tara has developed a network of contacts including at local kennels and with a vet, which means stray and sick animals receive the best possible care.
Working with a number of charities, she finds places for any dogs that are unclaimed and provides access to further support, helping to reduce the number of stray dogs in the borough.
Tara also won a Special Recognition PawPrints Award in 2020 for her dog warden service work throughout the pandemic. Tara remained visible in Croydon, providing reassurance to members of the public. She also provided animal behavioural advice via Zoom, was available to answer queries and continued finding rescue places for stray dogs.
Tara said: "The Dog Warden Service is of great importance to me and I take pride in the service and working for Croydon Council. This is the fifth year I have been awarded the gold award and I'm over the moon.
"The PawPrints Awards are the only awards that celebrate the work of dog wardens and I am extremely honoured to be a part of it. I've been given the gold award due to the fact we provide such a high standard of service here at Croydon, due to the years of passion and hard work I have put in."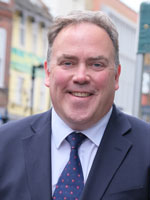 "We are extremely proud of Tara for receiving this prestigious award. Year after year she has been dedicated to finding homes for stray dogs and ensuring that stray animals are looked after. I want to congratulate her for her continued service and inspirational work."
Jason Perry, Executive Mayor of Croydon
Due to Croydon achieving gold level for five consecutive years, the RSPCA awarded a platinum-level PawPrints Award to mark the scheme's 15th birthday.
Lee Gingell, the RSCPA's public affairs manager for local government, said: "Despite the challenging situation for all local authorities and public bodies across the country, we're thrilled to see Croydon Council pick up the RSPCA's Stray Dog Services platinum PawPrints Award. The fact Croydon Council achieved platinum demonstrates the unwavering dedication of staff to animals."