Croydon Council has launched a programme of grants for grassroots community projects working to keep young people safe this summer.
Organisations that provide holiday clubs for children and young people who are at a higher risk of being drawn into youth violence can apply for grants up to £25,000 to help fund their projects, as part of Executive Mayor Jason Perry's commitment to making Croydon safer for young people.
The funding, which the council successfully applied for through London's Violence Reduction Unit, is being targeted at organisations in Thornton Heath and Purley that are not already receiving support through the government's Holiday Activities and Food programme (HAF).
Croydon is supporting a large summer activities programme, with activities taking place across the borough for young people of all ages to provide holiday and diversionary activities.
This package of funding, a total of £50,000, will be targeted at areas in the borough that have been identified by the council as having increased risks of violence.
It is intended to cover as wide a selection of local organisations as possible and activities can range from mentoring to sports clubs, through to filmmaking or music projects. These could be new programmes or could help increase the number of places available at established holiday clubs.
The council is also inviting applications from community organisations to deliver a 'back to school' package in Thornton Heath and Purley throughout September. This is to support children travelling independently for the first time, providing reassurance and engagement patrols while pupils navigate the streets and transport hubs.
The grant bidding process is now open and the deadline for applications is 5pm on Sunday 2 July. Application forms can be requested by emailing: safercroydonadmin@croydon.gov.uk
The launch follows £80,000 of grants being awarded by the council to three charities in May in central Croydon, New Addington and Shrublands to help young people to stay safe.
P4YE (Project 4 Youth Empowerment) received £30,000 to deliver activities and mentoring; PlayPlace received £30,000 to deliver sports, music production and first aid training, while Gloves not Gunz in Shrublands received £20,000 to offer mentoring, sports and help with finding jobs, training, and education. The grants were also funded through London's Violence Reduction Unit.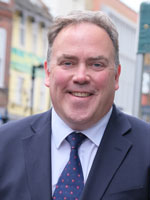 "We know that working with small, local organisations, who have already gained the trust of young people, is key to diverting children and young people at risk from youth violence.
"This additional funding helps us to engage with as many young people as possible through our broader summer programme. It also enables us to continue to support community projects that are doing important work, but who have missed out on mainstream funding, so they get the support they need during this summer."
Jason Perry, Executive Mayor of Croydon