The streets of Norbury benefitted from an 84% reduction in fly tipping in just two weeks after Croydon Council's 'blitz' clean up was launched to help restore pride in the borough.
Norbury High Street was the first area targeted by the council and its contractors for a programme of extra work to improve its appearance and make residents feel safer. The teams have been out and about tackling fly tipping, removing graffiti and fly-posters and cleaning shop fronts and pavements.
The campaign is part of Mayor Jason Perry's priority to make streets in our towns and districts cleaner so that Croydon is a place that residents and businesses can feel proud to call home.
The 'blitz' saw the number of reported fly tipping hot spots halved in the first week from 209 to 98, which was then slashed to 32 reports in week two. Activities over the last three weeks have included:
107 locations have graffiti and flyposting removed
Night closure of the bridge to remove graffiti
41 shopfronts cleaned
5 days of pavement washing in Norbury High Street and London Road
5 new litter bins
6 litter bins jet washed
Norbury is the first of several high streets identified in the borough as priority areas for a clean up, using data obtained from residents' reports made to the Love Clean Streets app, as well as data collected from the council's service providers.
The council is working with Litter Free Norbury and is continuing to listen to residents and businesses about how to work together as a community to keep our streets clean. Teams are also giving tips and guidance to shop keepers and other businesses about maintaining shop fronts and removing graffiti.
Residents and businesses can support the campaign by always using litter bins and reporting issues via the Love Clean Streets app, the fastest way to report fly-tipping, graffiti and other issues on Croydon's streets.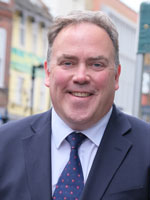 Jason Perry, Executive Mayor of Croydon, said: "We are delighted with these early results which indicate that our 'blitz' clean up is having a positive impact – not only on the appearance of Norbury town centre, but also on the behaviours of fly tippers.
"Cleaner and safer streets are a top priority for me, so we can make sure our town centres and districts are attractive places to live and visit and our residents and local businesses can feel proud of their communities.
"We are working with local communities and partners to look after our streets and encourage everyone to do their bit to keep Croydon tidy and report any issues in your area so we can respond."