Students across the borough are celebrating their GCSE results this week, demonstrating their resilience and hard work in the face of challenges.
The borough's results have so far showed a significant improvement on Croydon's pre-pandemic 2019 figures, bringing the borough broadly in line with national average of 70.3% for Grade 4 and above.
There has also been a rise of 6% in Grade 5 and above in English and maths, from 2019.
This achievement highlights the exceptional dedication and hard work of both students and teachers in the borough, especially given the legacy of the pandemic.
Hanya Butt, of Coombe Wood School, achieved an impressive four 9s and four 8s – the equivalent of eight A* grades. The 16-year-old will stay on at the school's sixth form to study A-levels and hopes to become a lawyer.
She said: "I'm really happy and relieved. For me, the teachers have been the highlight of my school experience – they are very supportive, academically and personally. I'm looking forward to staying on at sixth form."
Coombe Wood School headteacher Nicole Williams said: "A huge congratulations to all our students who got their GCSE results – we are very proud of them. The grades are well deserved and demonstrate their hard work, and the commitment of our teachers in preparing students for public examinations following the disruption in recent years. I would also like to thank all members of the local community for their continued support."
Students from St Mary's Catholic High School were celebrating their GCSE results. Principal Patrick Shields, said: "I'm immensely proud of all our pupils who sat exams this year, having had their lives and learning disrupted so much over the last three years. Many of them have exceeded their expectations, and we wish them well on the next part of their journey."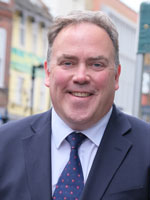 "I would like to congratulate everyone who received their GCSE results this week. I'm committed to making sure every child and young person in Croydon has access to a good education so they can reach their full potential. These results demonstrate the hard work put in by our borough's students, and their teachers, to achieve their goals and put the challenges of the pandemic behind them.
"If you haven't received the results you wanted to, don't worry – there are options available to you, so do contact the council's Post-16 team to get the support you need."
Jason Perry, Executive Mayor of Croydon
Have you just received your exam results and considering what to do next?
The council's Post-16 team can also offer practical post exam support to local students. To find out more visit their webpage, call 020 8726 7485 or email Post16@croydon.gov.uk
Further third-party advice and support is also available for any students who are unsure on their next steps or were impacted by results which weren't what they hoped for:
National Careers Service Helpline provides free and impartial careers advice, information, and guidance. Pupils can contact the helpline by calling 0800 100 900 to speak to an adviser.
National Careers Service Exam Results Helpline has free advice if pupils have received exams results that were not as good as they expected.
NHS South West London are partnered with digital mental health service, Kooth, who can provide support to students that may feel anxious, worried, or overwhelmed by their results.