Everyone who lives, works, studies and visits Croydon is being asked to get involved and share their ideas to help shape the sustainable future regeneration of the North End Quarter and wider town centre.
A new Urban Room, in a digital space and a physical place in Croydon, will host conversations, exhibitions and events, encouraging residents to give their views and get involved. Their ideas will help to shape a plan to steer the town centre's recovery in line with what people want and restore a sense of local pride.
Residents, businesses, developers and visitors are encouraged to have their say, ask questions and join activities through the online Croydon Urban Room, on Instagram, and by visiting the shop in the Whitgift Centre when it opens later this year.
The council is working with partners, such as the Croydon Partnership (CLP), to create the new vision for the town centre. The programme is part of the council's Growth Zone – a partnership between Croydon Council, the Mayor of London and Transport for London (TfL) – to support sustainable growth in the town centre and projects to deliver regeneration.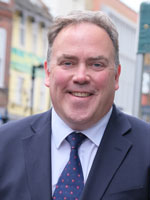 "I am committed to working with businesses and residents to develop a new, sustainable plan to regenerate the town centre, attract investment and restore confidence in Croydon.
"While we want the town to be a vibrant shopping destination and workplace for the many businesses here, Croydon's offer needs to be more than just shopping and offices, it also needs restaurants, cultural and entertainment venues, education and housing, to offer a unique experience for locals and to draw visitors in.
"It is vital that residents, businesses and visitors are listened to and involved in developing plans for the area and I'd encourage all to get involved – there's never been a more important time for us all to get behind our town centre."
Jason Perry, Executive Mayor of Croydon
Councillor Jeet Bains, Cabinet Member for Planning and Regeneration, said: "We're delighted to be launching the Urban Room as part of the regeneration of our town centre.
"There has never been a more important time to work together on creating the vision of a town centre we can all be proud of, and we look forward to hearing the ideas and views of our residents, businesses and partners."
The Mayor of London's Deputy Mayor of Planning, Regeneration and Skills, Jules Pipe, said: "The Mayor is committed to putting Londoners at the heart of his mission to build a city that works for everyone
"A better, greener London for all is possible when communities have spaces to come together and have their say on ways to improve their local neighbourhoods.
"The Mayor and I fully support Urban Room's innovative and inclusive approach to attracting a diverse range of voices in conversations that will shape the future of Croydon's town centre and support sustainable growth."