The Friends of Grange Park and Jason Perry, Executive Mayor of Croydon were among dozens of community members gathered on Saturday (7 October 2023) in Old Coulsdon to officially open the new 632m long pathway, put in to improve visits for park users.
The much-needed improvements had been planned for several years, and are already a welcome investment in the park, providing easier access for prams and wheelchair users.
The perimeter path runs the entire length around the park and includes six brand new benches – many of which have been dedicated in loving memory to local community members.
Table tennis tables are also planned as part of the long standing project, and they will be installed in the coming months.
Funds raised by the Friends of Grange Park who contributed nearly 75% of the cost towards the project, with the council contributing the remainder via community benefit fund from local developments.
Works began in August 2023 and were completed in September 2023.
Ray Haxton, treasurer of the Friends of Grange Park said: "Following a survey, and after six years, the Old Coulsdon community finally have the perimeter path they asked for.  It has given access to the whole park for those of all ages and abilities, and the path is proving a great success.
"The Friends of Grange Park would like to thank the community for their unwavering support throughout our journey and special thanks to the Croydon officer who had the determination and drive to get this project over the line."

Ray Haxton speaking to the crowd at the launch event (left), 3 year old Harley Stenning opening the path in his power chair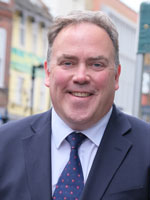 "Adding a path around this lovely park has made it much more accessible to local residents. It has been a community-led success story – and I am so pleased the council has finally been able to assist with getting it done after such a long delay.
"We've already seen wheelchair users, families with prams, runners and more all getting out for exercise, enjoying the park. With autumn rain and winter weather ahead, the path will provide a reprieve from the mud, so even more people can exercise more often. Thank you to all who got the perimeter path completed – and especially to the Friends of Grange Park for all you do for their community."
Jason Perry, Executive Mayor of Croydon