Croydon Council is asking residents to have their say on its plan to manage flood risk in the borough over the next five years.
The council has a duty to plan for how it will work with other agencies and organisations to reduce the risk of flooding. Also, to support residents that live on waterways, be prepared to respond to emergencies and investigate any flooding that occurs.
Residents can give their views on Croydon's draft Local Flood Risk Management Strategy for 2023-28 by taking part in the survey, which opens today (Thursday 22 June). The council would especially like to hear from those who may be at higher risk of flooding.
To take part in the survey, visit the council website, or contact floodandwater@croydon.gov.uk or 020 8726 6000 ext 28265 to request the information in a different format. All responses must be received by 11.59pm, 3 August, 2023.
Feedback received through the survey will help update the strategy before it goes to Cabinet for approval later this year.
For more information about flood management and reporting in Croydon, visit the council website.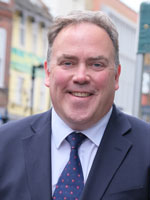 "We've experienced flooding in parts of our borough before, so it's really important that all agencies in Croydon are working together to manage any risk, and that we are properly prepared for any emergencies.
"By taking part in this survey, you can help us make sure our plans are up-to-date and reflect the needs of our residents and businesses. If you have experienced flooding in Croydon, we're especially keen to hear your views – the more we learn from you, the better prepared we can be."
Jason Perry, Executive Mayor of Croydon