More residents can take part in Croydon Council's popular and free Mental Health First Aid training and learn new skills to help and support someone they know in distress.
Croydon is offering the training as part of the council's drive to improve mental health and help more residents to get support at the earliest possible stage, before issues become a crisis.
People can now sign up for the next series of online training sessions taking place this autumn, which are free of charge.
More than 1,000 people in the borough have already attended the council's accredited Mental Health First Aid training. Participants learn how to help people they know in their community be open about their feelings, identify and understand any issues, and gain confidence to help them in a non-judgemental way. They will also find out how to signpost those who need further help or other appropriate support if they need it.
On completion of the training, participants will have new skills, gained a qualification and will receive ongoing support through Croydon's Mental Health First Aid network meetings.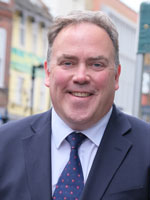 "We are pleased to offer our free Mental Health First Aid training to more residents. It is open to anyone who is interested in supporting others in their community who is facing an issue that's affecting their life. The training gives you the confidence to know how best to reassure someone in distress, and most importantly it will help you to build trust so that you can signpost them to further help and support."
Jason Perry, Executive Mayor of Croydon
Roy Simpson, a Croydon resident who is now a qualified Mental Health First Aider, said:
"I decided to take the course after a very sad time in my life which was losing a very good friend and neighbour of over 40 years who took his own life. He had been dealing with severe mental health problems, and other challenges for many years. It all came to a head when his wife passed away a few years earlier. I had spent many evenings with him, through to the early hours, talking over his problems and showing him some empathy.
"I felt overwhelmed after he died, and I decided to sign up to Croydon Council's Mental Health First Aid course to help me understand what more could be done to help people in crisis. It taught me a lot and I have used the training to help people I know in a way that is most helpful to them. I am an active resident and co-chair of the local community hub and I now find it much easier to listen more intently to what I am being told and act on it. I am also more confident to ask people about their feelings and tell them about support services where they can get more help to feel better."
You can watch a video of Roy talking about his experience as a Mental Health First Aider.
Volunteers at Croydon Samaritans are available at anytime to listen to people who need someone to talk to. They can be contacted by phone on 116 123 or visit their website.
People can also sign up to free suicide prevention training and learn skills to support someone who might be struggling with their feelings. Find out more here.