Executive Mayor of Croydon Jason Perry will be in Norbury for the next Mayor's Question Time, where residents will have the opportunity to quiz him about local issues and his priorities for the borough.
The event is being held on Tuesday, 5 September at Norbury Baptist Church, Semley Road. It is open to all Croydon residents, who are are asked to book a place in advance.
The Norbury Question Time is part of a series of borough-wide events where Mayor Perry highlights and responds to questions on key local issues, delivering on his promise to listen to the people of Croydon. Previous Mayor's Question Times were held earlier this year in Waddon and Purley.
The events are designed to give a voice to residents and questions can be asked about anything that falls under the Mayor's role. Residents are encouraged to register for a place and will have the opportunity to ask a question in advance during the online registration.
The Mayor's Question Time is on Tuesday 5 September, from 6.30-8pm, at Norbury Baptist Church, Semley Road. The event opens at 6pm and guests will need to be seated by 6.20pm for a prompt 6.30pm start.
Register here for a free ticket. Those attending on the day without tickets will be admitted if spaces are available.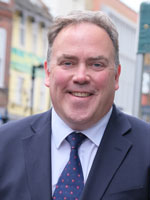 "The Question Time events held across the borough have proven to be a great opportunity to meet residents and hear about the issues that matter most to them. These events are about delivering on my promise to listen to the people of Croydon and continuing to work with them to make Croydon a place where people are proud to live, work and visit.
"I look forward to meeting the residents of Norbury and encourage you to sign up and submit your questions so I can answer as many of your questions as possible at the event."
Jason Perry, Executive Mayor of Croydon