Croydon's own Wandle Park has yet again received the international 'Green Flag' accolade, just in time for Love Parks Week.
This afternoon (Monday 31 July), Executive Mayor Jason Perry and cabinet member for environment, Councillor Scott Roche were joined by members of the Friends of Wandle Park, as well as council staff, to raise the Green Flag in the park.
The Green Flag Award, the international quality mark for parks and green spaces, has seen successful submissions from local authorities and other land managers across the country for a range of sites, from world-famous city parks to small, local green spaces.
The Green Flag Awards are run by Keep Britain Tidy, who administers the scheme in England, and also runs Love Parks Week. They are celebrating this year, as a record 2,216 parks – the largest number since the scheme began 27 years ago – are proudly raising their flags.
Wandle Park was redeveloped in 2012 with funding from the National Lottery Heritage Fund, the London Mayor's Help a London Park fund and Barratt Homes. This award recognises the council's commitment to keeping it looking its best following that investment and maintaining it as a key green space for the benefit of the community, and local environment.
"We are so proud of our parks teams and local volun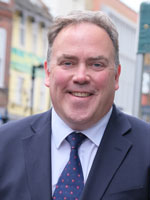 teers who have helped to restore Wandle Park as one of our borough's best green spaces.
"Bringing back our Green Flag status to Wandle Park shows our commitment to protecting and maintaining this fantastic park, so it can be enjoyed for generations to come."
Jason Perry, Executive Mayor of Croydon
Matthew Lucas, member of Wandle Park Friends' Group said: "The Green Flag is extremely important to the park. It's a sign to local residents and people from further afield, that the park is a nice place to come to and the park has things to see, such as the bandstand, rose garden, sports equipment and the skatepark. This shows the park is being looked after".
A full list of Green Flag Award-winning parks and green spaces is available here.