Croydon Council has set out the next steps in the redevelopment of the Regina Road estate after residents voted in favour of the homes being demolished and rebuilt.
At a Cabinet meeting on Wednesday 26 July, the Executive Mayor of Croydon reviewed proposals for the next steps of the regeneration project, after residents voted 'Yes' in the May ballot.
The turnout of eligible voters from the estate was 81.7%, of which an overwhelming 88.1% voted yes, while only 11.9% voted against regeneration of the estate.
The area earmarked for demolition includes three 11-storey tower blocks and a number of low-rise blocks and houses. The proposals are for 191 homes to be demolished and replaced with up to about 380 homes, subject to planning and other approvals, of which at least 200 would be council homes.
Cabinet also authorised the council to apply for Greater London Authority (GLA) funding to support delivery of this project.
The council is continuing to listen to Regina Road residents and has been holding regular group meetings, 121 meetings and drop-ins where they can discuss the proposals and have their questions answered.
The project is part of Mayor Perry's commitment to invest in and improve standards in council homes and put residents at the heart of decisions about housing services.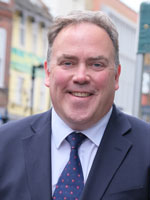 "Regina Road residents voted overwhelmingly in favour for these homes to be demolished – we have listened and are taking all the necessary steps to progress this landmark project.
"All council tenants and leaseholders should expect to have warm, safe and dry homes that they are proud to live in and I'm committed to delivering this pledge. We will continue to work with Regina Road residents to make sure they are supported during this process."
Jason Perry, Executive Mayor of Croydon
Twice-weekly tenancy drop-ins continue to be held on the estate and further engagement will take place over the summer where residents will be able to comment on the designs being developed. For more information about the project and drop-ins, see the Croydon website.