Thornton Heath's historical clocktower has been restored, after it was badly damaged in a blaze in September last year.
The clocktower which stands at the junction of Brigstock Road, Thornton Heath High Street and Parchmore Road was built to commemorate the turn of the century in 1900 and cost £300, half of which was donated by locals.
When it was vandalised last year, the Executive Mayor of Croydon, Jason Perry, promised to have the clocktower repaired.
The restoration of the well-known landmark was funded by the council's own insurance and risk financing arrangements.
The works to restore the clocktower, included replacing the mechanisms of the four clockfaces and the cleaning and repair of the electrical elements. The original roof was removed and completely remade with a new copper cover.
Gillett and Johnston, were the original makers of the clock and were responsible for fixing and replacing the dial and hands of the four clockfaces, while specialist restorers Stonewest carried out the extensive stone cleaning and repairs.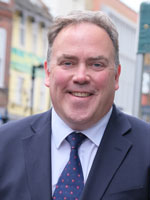 "When Thornton Heath Clocktower was vandalised , I promised to restore the landmark to its former glory. The clocktower has withstood two world wars and I was not prepared to let it remain damaged after an act of vandalism. The restoration of the tower is part of restoring pride in Thornton Heath and across our borough, and I want to thank all those involved in helping to rebuild this historic and much-loved landmark."
Jason Perry, Executive Mayor of Croydon
Andrew Charles, Contracts Manager at Graham, the principal contractors on behalf of Croydon Council, said: "We worked alongside our specialist team Stonewest for the restoration project, which included careful stone cleaning and repair, creating new timber substrate, installing the new timber roof and copper covering and a new solid metal door. We would like to thank everyone involved for their hard work in restoring the Clocktower, and making it possible to deliver this impressive iconic piece of history back to the community of Thornton Health."