Croydon residents are being asked to help shape a plan for how the council can best use its resources to reduce and prevent homelessness and rough sleeping in the borough.
Croydon's Homelessness and Rough Sleeping Strategy 2024-2029 will outline how the council will manage its housing supply, provide early intervention to help those in need before they reach crisis point, minimise the use of temporary accommodation, and work with partners to tackle rough sleeping.
A short survey has opened that will ask residents, community partners, faith groups and the charity and voluntary sector to have their say on the council's proposed priorities. The responses will help form the final version of the strategy and build upon the work the council has undertaken to listen and involve residents in the transformation of the housing service.
The survey is available on the council website and will close 23 November.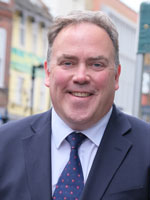 "I want to listen to local people as we develop our strategy to make sure council resources are used in the right way to support residents in housing need. We think a focus on early intervention and prevention is key to helping our residents before they reach crisis point, getting them into stable homes and avoiding costly stays in temporary accommodation.
"We also think it's essential that we proactively manage our housing stock and work with other landlords to increase the number of homes we have available for the people who need them most.
"Find out more about what we think the priorities should be and have your say in the survey."
Jason Perry, Executive Mayor of Croydon