Works to upgrade Monks Hill Sports Centre in Selsdon, South Croydon have been completed, with the centre now offering a new gym. The gym will be opening Monday 11 September.
The new gym will feature 30 stations, compiled of Technogym equipment, bringing Monks Hill up to standard with other council gyms. The project is part of a £140,000 investment of funding from the council's capital budget, that was ringfenced to improve the borough's facilities.
The new gym space also has a dedicated cardio zone, weights and resistance zones, as well as new flooring and decoration. The more spacious gym has gained room from transforming the former community room, kitchen and reception area into a modern gym.
The new facility is a dual-use centre that is shared with Quest Academy and will now have extended opening hours to the public.
The opening times are 06:00 – 22:00 Monday-Friday and 08:00 – 18:00 on weekends.
The new adaptations to Monks Hill Sports Centre complement the existing facilities at the site, which include the exercise studio, badminton courts, floodlit full size synthetic turf and outside basketball court.
The new gym will continue to be managed by the council's leisure provider GLL, and more information can be found here.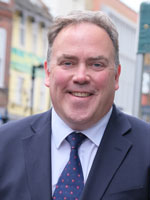 "The new gym at Monks Hill is a great addition to the community in Selsdon. I'm really impressed to see the introduction of more equipment and space in the gym, and this will allow more in the area to come along and use. The extended opening hours to the public will mean more convenience to those who may not have had the time to get a session in before.
"I want Croydon to be a healthier place to live, and leisure facilities like this provide affordable and accessible opportunities for everyone to exercise and improve their wellbeing".
Jason Perry, Executive Mayor of Croydon
Andy Crofts, Executive Principal of The Quest Academy and Quest Primary School said:
"We're delighted by the news of the new gym opening. It represents another considerable investment in the community here and a great resource that can also be used by our staff, students and local families.
"We are keen to promote health, fitness and mental wellbeing for everyone we work with and this new facility will help us do that in partnership with GLL and the council."
Ryan Loughlin, General Manager at Monks Hill Sports Centre, said: "We're so pleased to be launching the new gym at Monks Hill Sports Centre.
"The new gym will play a pivotal part in helping the community to improve their health and wellbeing both through our sports centre and now also in our state-of-the-art gym facility.
"It will be great to see local residents and visitors in the Selsdon and wider Croydon area benefiting from the huge improvements to the facility."